Lawrence Resident Dies from Gas Explosion; Many Others Injured and Displaced.
---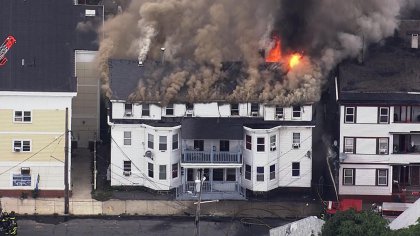 Shantel Polanco Baez wrote that [Leonel] "just called me last night to check up on me. breaks my heart I'm in tears" She is just one of Leonel Rondon's many friends who wrote affectionately about the young man after he passed from a gas explosion yesterday. Luisanna Rooselee, a 20-year-old woman from Malden shared a tribute to Rondon online. Her and many of Rondon's friends made their feelings for him well known on social media following his tragic passing yesterday.
His death was caused by a gas explosion that rocked Lawrence, North Andover and Andover on September 13, 2018. Entire neighbourhoods were evacuated as fire crews scrambled to fight the flames in at least 39 homes and turn off gas and electric lines to prevent further damage. Later estimates put the gas explosions somewhere between 50-70 homes. Entire neighborhoods were blocked off and shutdown. School was cancelled and courts were closed. "It looked like Armageddon, it really did," Andover Fire Chief Michael Mansfield told reporters. "There were billows of smoke coming from Lawrence behind me. I could see pillars of smoke in front of me from the town of Andover."
Although dozens were injured, Mr. Rondon, a teenager, is the only known fatality. Columbia Gas in Lawrence serviced the homes, and State Police urged all residents using Columbia Gas to evacuate.
Sadly, Rondon's death is one of many caused by gas explosions in the Commonwealth. In 2006 two young girls were killed when an energy company caused a gas explosion in their apartment. Nstar, the defendant in that case, was forced to pay Seventeen Million Dollars to the victims' families. Also in Massachusetts, two municipal workers died when a mislabeled gas line exploded, killing both of them. The energy company was sued in Superior Court and forced to pay the victims Twenty Million Dollars.
Evidence so far suggests that Rondon's death, like others in Massachusetts, resulted from a negligent energy servicing company. Attorney Matthew C. Hanson of Combies Hanson, P.C. stated earlier:
"This is a catastrophic event. We're learning that seventy or more homes were destroyed by fire and another 8000 were affected. It's un-precendented. While the investigation is still ongoing, evidence suggests this terrible death was caused by a systemic breakdown in procedure and safety on the part of those in charge of servicing these gas lines. We are very sorry to hear about Mr. Rondon and offer our condolences to his family. It seems to me this is something that could have been prevented."
Gas explosion lawsuits typically expose negligent training, faulty products and replacements parts, poor workmanship and negligent conduct on the part of workers and supervisors. In some cases, companies have even been exposed, covering-up the reckless conduct leading to destruction and death.
Combies Hanson, P.C. is a Boston-based personal injury and wrongful death law firm. Its lawyers handle a variety of injury matters, including gas explosions cases. Founding partners Matthew Hanson and Adam Combies are rated by Super Lawyers magazine. In 2017, both were reported in the Massachusetts Lawyers Weekly Largest Settlements and Verdicts annual edition for their recovery for the family of a young woman killed due to inadequate security at her apartment.
To hire the lawyers at Combies Hanson, P.C., or to receive a free consultation, call our office for a free consultation.